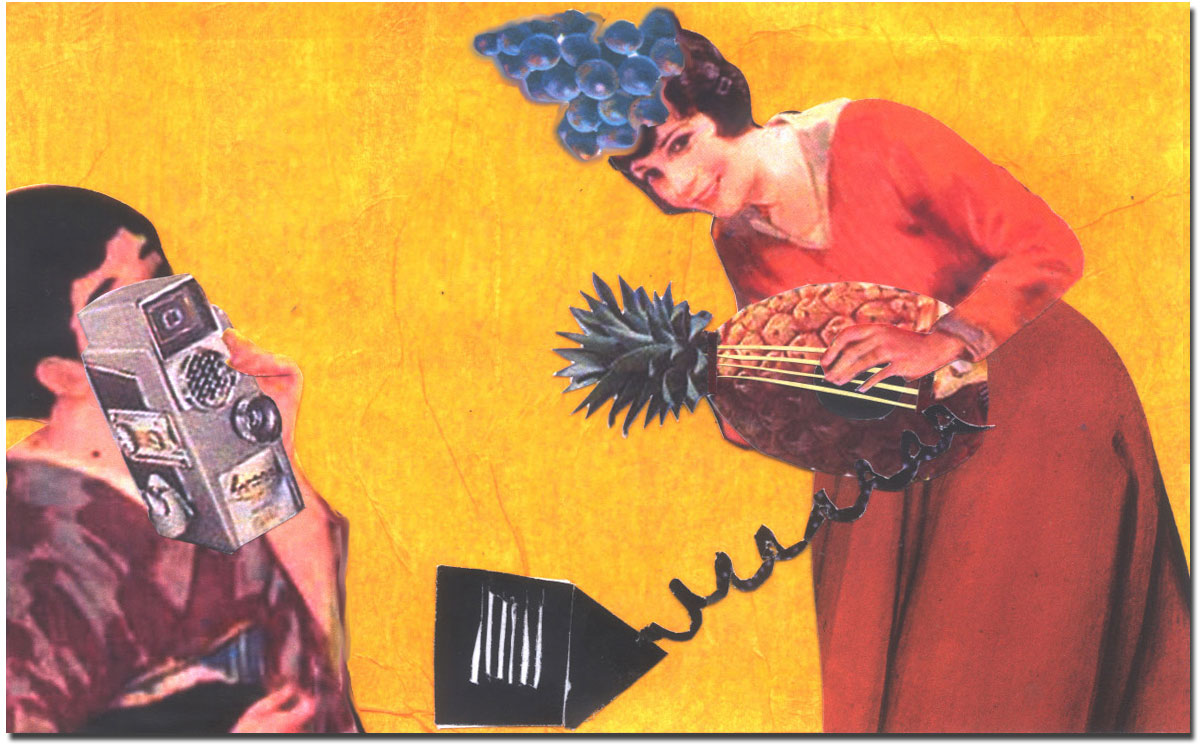 Fruitinanny- Hand-made Collage 4" x 6"
Hanji called last week and told me to high tail it to Sapporo the second week of October for its annual harvest/folk music festival known as The Fruitinanny. As much as I love Hanji, I couldn't see weathering a fourteen hour flight just to stand in a crowd of aging folkies and aggressive agribusiness types. That is until she told me that Mary Duncan Weems would be making her first public performance in over thirty five years. Mary Duncan provided the soundtrack for my youth. Equal parts Odetta and Carmen Miranda, playing her signature pineapple lute, Mary Duncan sang songs that seemed to oddly parallel my own life.Whether it was One Banana, Two Banana, or her classic Strawberries Give Me Hives, somehow the plaintive strains of her melodies spoke to me and nourished my soul.
My flight arrived on a Thursday afternoon leaving me a day and a half to recover before the concert. Saturday morning I endured a dreadful new act called The Monsanto Six which played a weird kind of synth-pop on the latest genetically-modified sugar beets, sugar cane, apples and soybeans. The sound though polished and virtually flawless was devoid of any shred of originality. At the other end of the spectrum, I caught a few minutes of some old timers playing classics on organically grown persimmons, crenshaw melons, and raisins. The music was earthy, if just a bit too precious. However, the moment Mary Duncan stepped onto that stage these earlier acts became faint memories. To my great delight she started her set with Muscat, Concorde (for Cesar Chavez). The crowd erupted with wild applause (and applesauce). And though no longer the lithe muse of the West Fulton Street Market, her Latin-inflected Papaya Ay Ay Ya accompanied by a sensous swaying of her now ample hips brought color to my cheeks. By the time she sang, Anjou I found myself in tears. The concert was without question one of the highlights of my life. Between all the great music and fruit I was both spiritually and literally cleaned out.At the airport, I thanked Hanji and told her I felt like a new man.