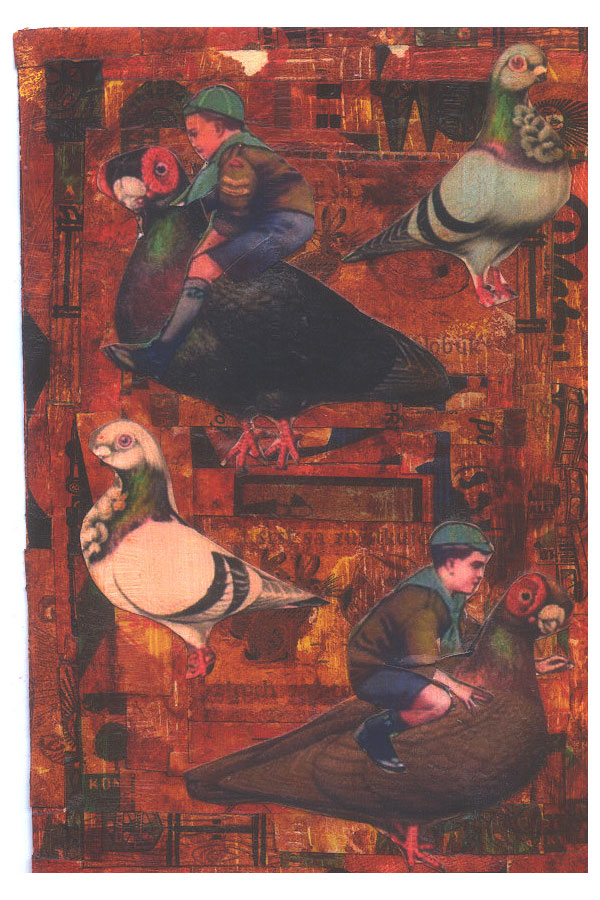 Racing Pigeons - Hand-made Collage
Concealed in a wheelbarrow beneath a quantity of sheep offal, I escaped my captors,vowing to never return to Uzbekistan... at least not in July when both kidnappings and hotel rates skyrocket during the month-long Festival of Extortion. Blanketed under the warm entrails I soon fell asleep. When I awoke I found myself in a substantially larger pile of innards lying at the bottom of a ship's hold. How many weeks past before I saw the light of day I cannot say as I was in a state of panic only made tolerable by my frequent bouts of catatonia. Release came quite unexpectly one morning when the side of the ship opened and I spilled out onto the quayside riding a wave of entrails that was quickly scooped up by eager hagis laborers armed with snow shovels. I knew in an instant I could only be in one place: Edinburgh, Scotland.
Dusting myself off and feeling no worse for the wear I headed to the nearest hotel where I was promptly turned away. Wandering about the city looking for accomodation in my less than dapper state was proving difficult. Yet, fortune prevailed and brought down a torrential rainshower upon me that lasted more or less the rest of the day. Come nightfall, though waterlogged I was clean enough to be admitted to a lodging establishment. The proprietress was kind enough to loan me her large and ungainly daughter's tartan school uniform skirt. Although it came to mid-calf (the girl was well over six foot tall), I fancied myself as fitting in with the rest of Edinburgh's kilt-wearing brotherhood.
The next day I was able to attend Feather Downes. Renowned by pigeon fanciers the world over, the track hosts a singular variation of pigeon racing. Scottish buckeyes, fed on a diet of single-malt whiskey and scotch eggs grow as large as emus. Far too large to fly, the gigantic birds walk around a track following trails of corn. Local overweight boys serve more as handlers than jockeys holding down wings beneath chubby thighs to prevent flapping during the race. Although I mounted significant losses that day, I did win the lasting affection of a dance-crazed Scotsman named Glenbard MacAvoy. As some of you know, Glenbard joined me on the next leg of my journey to the great American desert in the state of Arizona. There set again an unearthly backdrop I was able to capture the wild exuberence of him and his lamb and constant companion, Maybelle. Glenbard MacAvoy.